The growth of the Data Center
The insatiable desire for data across all aspects of life and business is accelerating growth in the set-up of data centres. For businesses the pursuit to improve performance and drive growth is underpinning the data centre boom with many piggy backing on the market presence of cloud service provider infrastructure as a cost effective way to manage and process their data. Some of the new applications in the market which are driving this change include:
Data Center Migration
Enterprises continuing to shift their IT from on-premise data centers to off-premises cloud environments.
Internet of Things (IoT)
The requirement to manage and process real-time data for the IoT network of physical devices, vehicles and home appliance sensors.
Virtual Network Function
The virtualization of 5G networks by network operators using VNF and running their 5G core network on public data centers.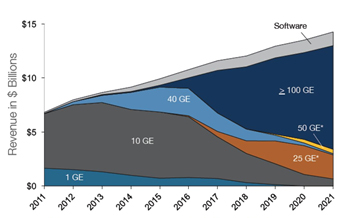 The need for speed - 100G Ethernet
One of the underlying technologies that is making data centers a commercially attractive option for enterprises to offload their application deployment and operation is the availability of high-speed ethernet. The significant increase in the amount of data required to be stored and accessed almost instantaneously by users means higher speed interfaces such as 100G ethernet is essential and as the graph indicates, a large amount of data center switches have already been migrated over to 100G Ethernet and beyond.
The service provider verification challenge
For Data Center operators and Cloud Service providers, this move to third party hosting by enterprise organisations is really enabling them to commercialize their data centre infrastructure. Diversification of services to include Network Function Virtualization (NFV) solutions such as MEC, webscale networks and network slicing is opening up new revenue streams.
However as the number of services and consequently 3rd party applications hosted increases, so does the level of risk being transferred over through the transfer of responsibility for Quality of Service (QoS) and this is putting pressure on those responsible for controlling application performance.
Offering 100G Ethernet speed to customers and committing to their SLA's without any way of verifying the application performance under real network conditions not only creates a risk of application failure post deployment, but could cause greater problems for a service provider's overall business model.
Often this risk will be transferred down the line to those responsible for deployment, creating pressure on the 'shop floor' to put in place any mitigation options. However there are solutions such as network emulation that can be used in the Lab to test and verify performance across 100G ethernet before deployment, well before anything goes live on the network.
Look out for our next blog 'Pre-deployment Insights – The Verification Saviour for Data Center Engineers' where we look at the specific use cases of Data Centre Migration and Data Centre Interconnect and how gaining network performance insights pre-deployment is helping engineers address their verification challenges.
Related product: Calnex SNE
Related blog: Pre-deployment Insights - The Verification Saviour for Data Center Engineers