Today's broadcast audiences are seeking more. They want user defined, on demand content.
They want access to real-life experiences like live concerts and sports events. They value feeling 'in the moment' and are seeking the experience through video streaming and live social media. Broadcasters are embracing this change in consumer demand, offering a compelling 'Direct to Consumer' proposition, focused on distributing content directly to audiences as and when they want it. However, in adopting this strategy, they are also increasing the pressure to deliver a quality broadcast performance. Setting high expectations with audiences is leaving little room for failure and they won't accept buffering just as the winning goal is about to cross the line or a distorted picture as the headline act is taking to the stage!
Quality of Experience (QoE):

QoE can be a key differentiator for broadcasters and if it lives up to audience expectation it can be the key attribute which keeps their audiences 'in the moment'. When audiences sign up to a broadband provider for a defined level of bandwidth they have an expectation that the throughput on their video streaming, on-demand or live will work. But sometimes it doesn't.
A recent survey by Akamai discovered that 'consumers abandon video streaming if it is delayed by more than two seconds.' So if broadcasters fail to deliver, audiences may choose to experience their 'moment' elsewhere.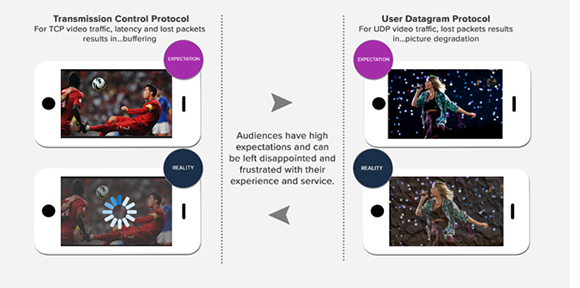 So what causes failure? Often impairments impact the level of network throughput, consequently affecting the output and what audiences see on screen. Even without any impairments on a network the level of throughput can be affected – if only by a minor amount. So, if you add in impairments such as packet drop and latency things can change dramatically. For example, tests show that just a 1% packet drop can cause throughput to drop by up to 90%.
Achieving Assurance on QoE:
So what can broadcasters do to get assurance on the QoE they deliver to their audiences? Accenture stated in their 'Future of Broadcasting V' report that Broadcasters now 'have to be able to offer content anywhere (on and off network), anytime (live or time-shifted) and on any device (laptops, PCs, tablets and smartphones), at a low latency and in an easy-to-use, intuitive format.'
What can be done? Robust Testing
Using a network emulator you can simulate the exact network set up you want to test and then emulate real network conditions by adding impairments such as, latency, packet drop and delay. In doing this you can test out the application used to stream the content across a specific network setup by replicating the exact conditions you expect the video stream to perform under. You then get a visual of the output, seeing exactly what the end user would. This allows issues to be identified and addressed prior to deployment reducing the risk of audiences being disappointed with their experience.
At a time when finding growth areas in broadcast is a pressing issue, this can help broadcasters compete and gain market share across 'video on demand services', a vital area for driving business growth!
Reduce the risk of failure in video streaming with network emulation and deliver an exceptional customer experience
Caroline Kelly
Marketing/Design Executive

Read more about network emulation in:
Financial Services, SD-WAN, 3G/4G Networks, Datacenter Relocation, Find and Fix Network Issues, Quick Robust Solutions for IT Network Issues