A Scottish company is helping to influence the future direction of mobile phone technology. The only firm of its kind in the country, Linlithgow-based Calnex Solutions is working with China Mobile, the biggest mobile operator in the world with more than 900 million subscribers, to expand advanced 4G and 5G mobile services.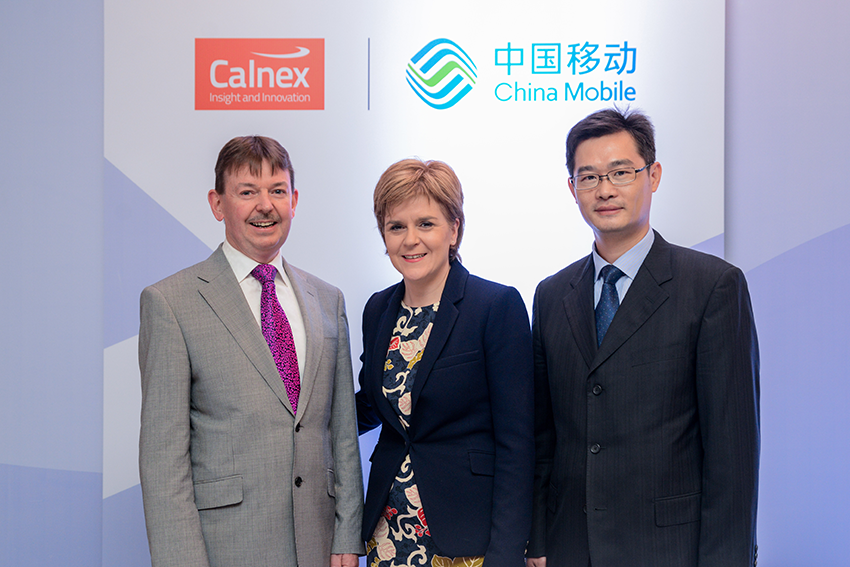 According to Calnex founder Tommy Cook, China is leading the way in shaping the future of mobile phone technology rather than companies in the western hemisphere. Twenty years ago it was the West at the forefront of this technology but recent years have seen a shift to the East.
"3G was wholly driven by Europe and the US but 5G is going to be driven by China," says Cook. "Chinese technology is becoming very influential in the West but not in a negative way – it's from the point of view that they are saying how they are going to build their network and that is going to drive the direction of the rest of the world.
China Mobile is the biggest operator in the world so, if they say this is what they are going to do, then the rest of industry will follow suit. Today, it is China Mobile that are most vocal at saying what they need for their 5G network and this is how they need it to be done. The large operators in the West are not being so vocal hence, by default, it is China Mobile that is setting the direction."
China is now leading the world on several aspects of 5G roll-out and Calnex has aligned its product development roadmap to deliver the specific technologies required for the Chinese market and to maintain its lead position worldwide.
"Our role is helping them test new equipment to see if it delivers the performance they are looking for," Cook explains.
China is now leading the world on several aspects of 5G roll-out and Calnex has aligned its product development roadmap to deliver the specific technologies required for the Chinese market and to maintain its lead position worldwide.
Since being founded in 2006, Calnex has grown to hold a strong position in the $4.3 billion telecoms testing market. With 81 employees – 61 in Linlithgow, eight in Belfast and 12 across Asia and North America – Calnex sells in all major regions of the world including SE Asia, India, USA and across Europe. The company's first product was launched in 2007 and since then the company has grown year-on-year both in turnover and headcount. Clients include Google, BT, Vodafone, China Mobile, AT&T, Nokia, Ericsson, Cisco and Juniper.
The company's products, which are engineered and manufactured in Scotland, are technically advanced, selling into a low-volume, high-value market. In other words, they are pricey, meaning that the company has had to build good relationships and trust with its customers.
Calnex also has to innovate continually as the products being sold today may well be out of date in two years. It is therefore important that the company has close working relationships with the leaders in the field to provide insight into what is going to be required.
"It's critical for our business that we remain close to the global leaders so we have visibility of where they are going," says Cook. "We need to understand what 5G means, who is doing it and what it is in practice. "China Mobile at the moment is defining what a 5G network means."
As a result, Calnex has built a local team in China in order to support the firm's business ambitions in the country.
The company has been exporting electronic test and measurement equipment and the associated analysis software packages to major players in the Chinese telecoms industry every year since 2009.
The test solutions are sophisticated pieces of equipment designed to either make precise timing measurements on high-speed data streams or introduce deliberate and precisely controlled fault conditions to a network to test application robustness.
The products support these test functions on a wide range of interfaces, including the latest high speed 100 Gigabit/second links being deployed in China for the expansion of advanced 4G and 5G mobile services.
The complexity of the product is such that the base electronic component cost runs to several thousand of pounds for each test system.
More recently the company has invested in its resources in Scotland to provide Mandarin language digital marketing support for China and, as a result, now has a Chinese website and a presence on WeChat and YouKu.
The senior management team also make regular visits to China to maintain the best possible communication channels to the top customers.
Given China's dominance in the electronics manufacturing sector, to continually export an electronics-based product made in Scotland to multiple customers in China in the face of lower cost local competition is seen asahuge achievement – and, in recognition, Calnex Solutions was nominated for the Scottish Exporter to China award.
EDITORIAL CONTACT:
Crawford Colville, Calnex Solutions
+44(0)1506 671416
crawford.colville@calnexsol.com